Posted October 30, 2023
Well, its about time I got back to writing. Since 2019 some things haven't changed, we're still getting Covid and flu jabs and add to that a recommended RSV jab for those of a particular age bracket. One thing to note, is that we have not contracted any virus-related ailments over the course of the pandemic and to date, neither Covid nor influenza, which gives credence to "better safe than sorry."
Last year (2022), after our last trip with our truck and travel trailer to Eagle Valley Park Campground in southern Saskatchewan, we sold both, which freed up a lot of room in my shop. So, I had an idea for a new project where I designed and built a hydroponics system for growing lettuce, YES lettuce. It worked great and we had lots of leafy greens until I decided to add green peppers and tomatoes to the mix which required different nutrients. It wasn't a good idea as none of my plants did very well. So, I threw all the plants out, cleaned the system and when I get enough time, I'll start a new batch of lettuce.
About this time last year my dear wife, a singer songwriter and her singer songwriter friend had a discussion with the owners of Tribal Connection Market in Okotoks and with their blessing, decided to start up an open mic. A once a month - third Monday of the month - open mic where musicians and listeners are welcome to participate and enjoy music and coffee. It has been extremely successful and they recently celebrated their one year anniversary of the project. Me, I'm the sound guy and I provide the equipment and setup to make it all work for the performers and listeners. Both experienced and newbie musicians enjoy a friendly and non-threatening environment to enjoy and share their love of music.
Last fall I figured I'd best get some overdue repairs to our deck done, so I started off by pulling up a few deck boards to replace them as they were somewhat weather beaten and, in some cases, rot had set in, mostly where the screws were. After unscrewing a few of the worst deck boards, I found, to my dismay, the trusses were also in bad shape. Well, long story short, it was too big a job for me, so I hired a local company I heard about through my headset radio whilst out harrowing my fields with my Kubota. This summer the deck and our walkway were rebuilt. They did a darned fine job so we're good for another 25 years or more. One thing to note is that I unscrewed every deck board myself, (to save some money on labor) over a period of three days, my knees and back were very happy when I'd finished. One thing though, we salvaged most of the boards and our friends picked them up and turned them into a windbreak on their farm. Better than going to the landfill. And speaking of decks, I contracted the same company to rebuild my sister's deck and pergolas. A much bigger job than ours but it's almost complete and we'd hoped it would be wrapped up before the snow arrived. That didn't happen as it snowed in mid-October and nighttime temperatures hit -17C. The weather is warming up so work should resume and be completed shortly.
This year I got back to making hand soap, something I did several years ago. It's a great way to get a good quality soap and it makes great gifts. Just about out now, so I must get back at it in the next few weeks. However, I had a lot of scraps left over so I tried my hand a re-batching the scraps. It worked well but using a double broiler wasn't the best way to do it, it took too long. Next time I'll use a crock pot. Live and learn, I guess.
In the meantime, I started another new project as we're installing a ground based solar array to help offset our electric bills. While we are not building it, it takes a lot of serious investigation and planning to hire a reputable company to get the job done in a timely manner. More on that in 2024.
The old saying "the world is going to hell in a hand basket" seems to ring true in these troubled times around the world. Not only that, our neighbors to the south, can't for the life of them figure out how to deal with illegal migrants and their southern border security. Seems Canada isn't doing much better on that note.
Back to troubled times - the death and destruction in the middle east and eastern Europe makes one want to cry. It makes me sad and very afraid of where the world is heading all because of the hatred people have for each other. What we need is a time out. Just think of all the good the money and resources we spend on wars could do, not just at home but around the world.
However, back here on the farm, we've had the worst hay crop in many years, virtually nothing worth harvesting. Farmer Dave, who cuts our hay, said his mower can't cut low enough to make it worth while. Which meant I had to cut what was there with my trusty Kubota and rough-cut mower to get rid of the weeds and brush that seems to grow regardless. And the other reason to cut it was to be able to harrow and knock down the pocket gopher mounds that seem to get worse every year. With the fields mowed and harrowed I could spot where new mounds come up so I could set traps to get rid of the pesky critters. Left alone, the pocket gophers will destroy a hay field. Not a pleasant, time consuming, task but one that needs to be done on a regular basis in the spring and fall.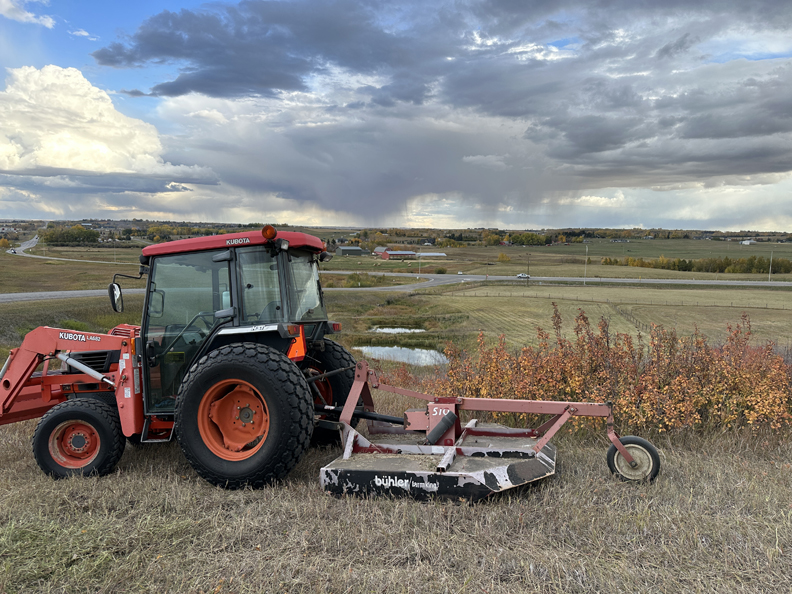 My Kubota and rough-cut mower on the hill overlooking our spring, ponds and hay fields
Our liberal Prime Minister (JT) can't keep his mouth shut or maybe it's a case of hoof in mouth, either way he is an embarrassment to Canada and Canadians. I guess it's like father like son. JT's screw ups are ongoing, from SNC-Lavalin, holidays with the Aga Khan, costumes on his India visit, elbow in the breast in parliament, blackface, WE Charity, current relations with India and the list goes on. I suspect if the liberals weren't supported by the NDP they would have been turfed some time ago.
Seems to me, that the recent comment by the Liberal Rural Economic Development Minister, Gudie Hutchings, about western and prairie provinces electing "more Liberals" to have their voices heard, adds credence to the claim that Liberals are buying votes by giving carbon tax breaks to the Maritimes - a very Liberal part of Canada. You be the judge!
On another note, in my Old Soapbox about appealing an MD decision and water licenses granted to a neighboring hemp operation, I stated that the water flow from our spring was 10 IGPM, I did the same test this year and it's now 8 IGPM measured approximately the same time as last year. That's a 20% drop in flow. It could be an aberration or a sign of things to come, let's hope it's an aberration.